Baybeats are back for their 20th anniversary and it is the most expansive they've ever been, with the festivities spanning across 4 days starting out on the 4th to the 7th of November 2021.
Set to be launched in a hybrid format, audiences will be able to witness the performances live at The Esplanade Theatre and Annexe Studio, with both stages livestreamed simultaneously. Tickets for specific performances will be available on their website in late October; attendees must be fully vaccinated or gone through a PET test 24 hours prior.
 

 

View this post on Instagram

 
The Esplanade Theatre will be emulating the energy and feel of the iconic, dearly missed Powerhouse Stage. Baybeats alumni and legendary bands set to perform there include Tiramisu, Electrico, Caracal, The Full Pledge Munkees, Amateur Takes Control and Pleasantry.
On the other hand, the Annexe Studio will see first-time collaborations with independent gig organisers, labels and presenters in Atmos, Big Duck, Middle Class Cigars and Secret Signals. Through this collaboration, the four organisations will be able to showcase their own twist towards live performances at Baybeats.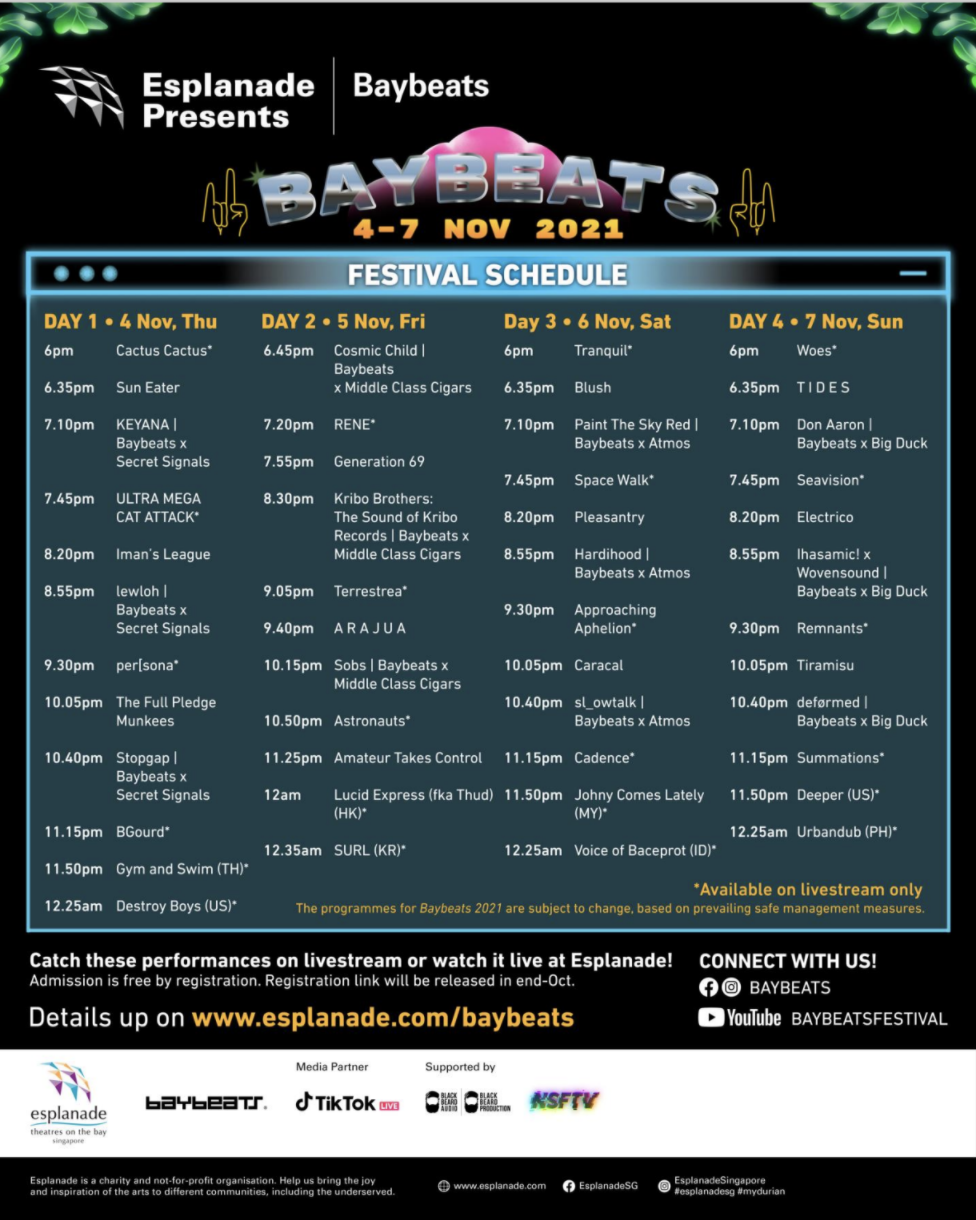 In a press release statement, V M Sai Akileshwar - the Programmer for The Esplanade says: "At a time where the previously vibrant underground scene has suffered from the closure of many iconic venus, the Esplanade Annexe Studio will be used for collaborative presentations with indie organisers, labels and presenters."
 "These collaborations kickstart a new phase of engagement with the local music community, as we do our part to keep the scene alive," Akileshwar declares.
 

 

View this post on Instagram

 
Known for their ethos of giving rising acts a platform for their artistry, the budding bands of 2021 and 2020's performances will also be live-streamed, including the likes of Astronauts, Cadence, Summations and BGourd.
Baybeats have also partnered up with Not Safe For TV (NSFTV) to produce a four-part episode series titled "Add To Playlist'' in commemoration of their 20th anniversary. Through these four episodes, they will dive deep into subjects surrounding the alternative music scene and the subcultures in it, encompassing "inclusivity, nostalgia and finding a voice." These will be made available to watch on Esplanade Offstage.
Watch the trailer for "Add to Playlist" here

For more information, visit their website here.
---