The most exciting legends of the Malay music world, ELLA, Zamani Slam, and Awi Rafael will be uniting at Muzik Lagenda, on 27 August 2022 at the Victoria Theatre. The grand show will feature unforgettable classics and modern hits, and is the inaugural project of Newsantara Asia, formed through Awi Rafael's partnership with Timbre Group CEO Danny Loong.
Muzik Lagenda is an event that no fan of Malay music simply can afford to miss. ELLA will be returning to the stage for the first time in two years to perform soul-stirring anthems, and will duet with Awi while being accompanied by his new band KASABLANKA. Veteran rocker Zamani Slam will also grace the stage with songs that soundtracked their youth. 
Awi, a homegrown icon, is no stranger to being a pioneer, holding the honour of being the first solo male artist from Asia to have recorded two songs in the legendary Abbey Road Studios in London.
Meanwhile, Timbre has become a formidable force in the local music scene through its dedication to uplifting Singaporean musicians as it features local rock and alternative pop bands at its various venues. Additionally, Awi and Danny of Timbre have proven the strength of their collaborative energy through the recently established Timbre Music Academy, upping the excitement towards their future projects together. 
To learn more about the upcoming concert, Newsantara Asia and more, Hear65 had a chat with Awi and Danny.
---
Tell us more about Newsantara Asia. How did it come about and what do you hope to achieve with it?
DANNY: Newsantara Asia [came together after a] few years of talking to Awi. I've known him since the early 2000s. At that time, [he was] a young aspiring artist, or should I say, a musician who was trying to be an artist. Through the years, I've helped him [and] he has helped me. Firstly, [we are] friends. He's a lot younger than I am [and] I try to support [him] as much as I can. [The initiative has been] a long time coming and I think Newsantara Asia represents the next step of our working relationship, our friendship, to bring new artists — and also legends in this case — to the wider audience.
We (Timbre Group) are very proud and honoured to be part of this partnership with Awi, not just for Newsantara Asia, but [also because] Awi is a partner of Timbre Music Academy as well as our principal. The best is yet to come. This is just the start.
AWI: While I was doing and achieving my music in Kuala Lumpur, I slowly also discovered that there's a niche in, you know, placing in the forefront, artists and music, together with commerce from this region. So I really wanted to champion a new perspective of Nusantara, which is the archipelago. Now together with Danny, I do believe that we are on the right track to realising our vision of getting the best out of a new, modern Nusantara. Muzik Lagenda will be our first ever foray into this whole side of event management. We're really excited about it.
"We want to build stronger alliances and we hope that Newsantara will be one of the main bridges."
What can fans of Malay music most excitedly look forward to, at Muzik Lagenda? Are there any highlights you'd like to share?
DANNY: This is our first concert; our first big project. [It will feature] the legends Zamani Slam, ELLA, and also Awi, [and this is] totally appropriate for the first concert. You get three for the price of one. They are going to do some duets. There will be surprise moments at the concert. We all know that Mandopop and K-pop are huge [but] I'm really proud of our own Malay artists. The Malay music scene is one of the biggest in Southeast Asia, and also Asia, and we want to celebrate that. Next year, we will expand it into a sort of a mini festival.
AWI: We want to build stronger alliances and we hope that Newsantara will be one of the main bridges. I remember when I was in Jakarta, Indonesia, Danny performed a blues gig with the musicians there. Nobody really cares where you're from. It's all about the music. I really believe that with Danny's experience of doing bigger festivals even before Newsantara — getting all these top legends like Bob Dylan — we can do the same eventually for Newsantara Asia.

What was it like working with fellow legends, ELLA and Zamani Slam?
AWI: [It] was very organic. The main idea that Danny had was, "Awi, who within your contacts are legends?" And I'm just very thankful I have a lot of all these acts who are within my contacts because I wrote some songs for them. Immediately, I thought that there [had to be] be one [female] rock artist, and that was definitely ELLA. I remembered Zamani because I was very touched by his determination to continue having shows right after COVID even though he was having some health [issues]. I really wanted to help out in that sense and he's really, really happy that he got this chance. Eventually, there'll be many more artists on our list. But for the first [concert], we really believe that ELLA and Zamani are perfect choices.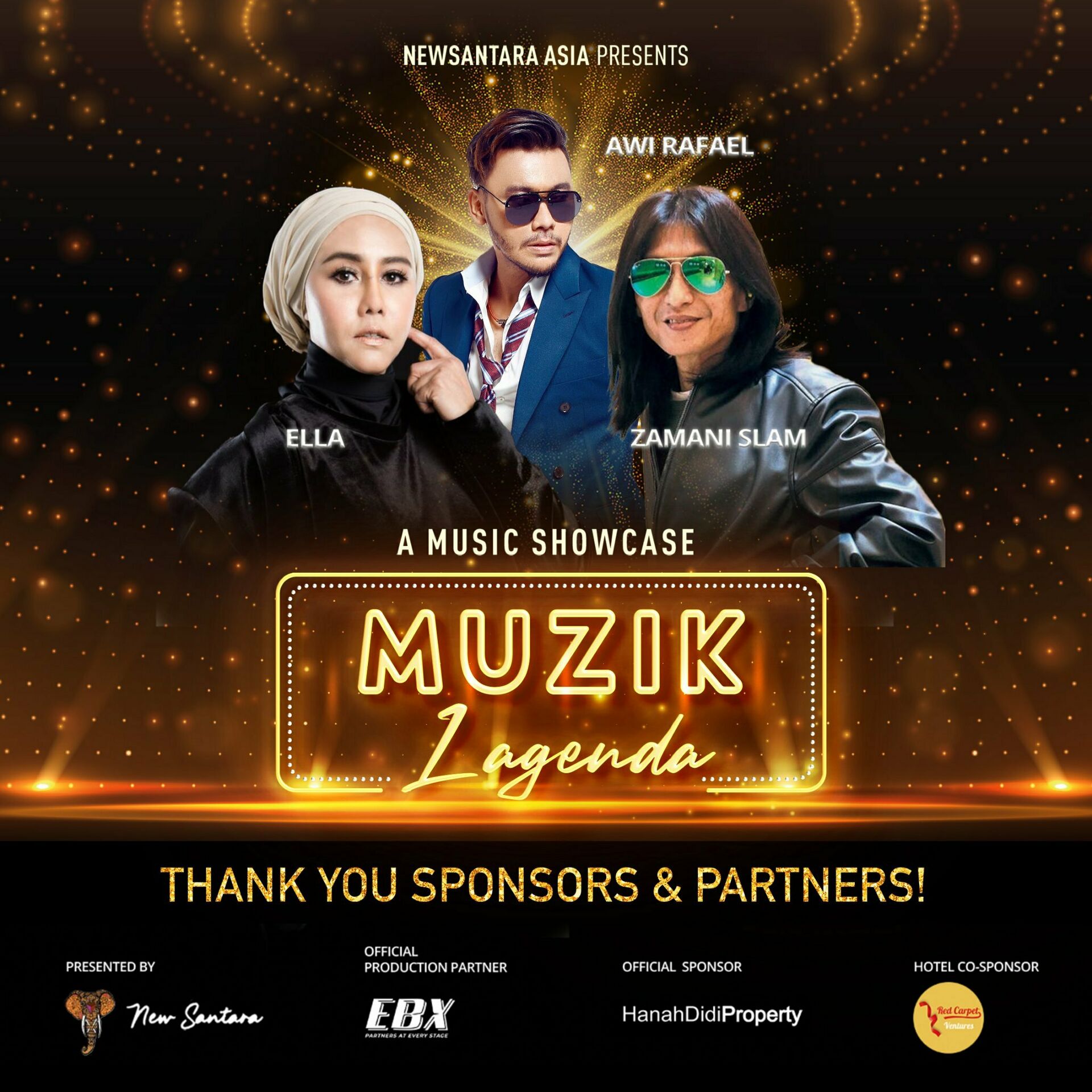 Congratulations on the warm reception towards the event! What's one unique challenge in holding such a large-scale event after a two-year hiatus due to the pandemic?
DANNY: We actually did some concerts during COVID, but of course, [with] small-scale concerts there will always be a risk. This is the first year that Hari Raya has been celebrated [since the pandemic began] and this is the first year that the restrictions have been relaxed. We felt that we needed to organise a huge concert [and] to have Zamani, ELLA, and Awi [and] bring everybody together and remind [them] that the worst is over.
Of course, there's a risk in everything, but the tickets are selling so well. I guess the risk was [worth it]. That's all I can say. I really appreciate not just Awi, but [also] the Timbre team because [they have been] working on this for so long and now we have finally done it. 

"We have an array of musicians specially chosen just for this concert, so I'm really also excited to showcase our homegrown talents."
Awi, what has been the best part of being the music director for this grand celebratory event, in your opinion?
AWI: One of the best parts is playing all these classic songs because we are only playing all the top hits from the artists. It's like a flashback or throwback to all their legendary songs. And the other second thing that I'm very proud of is [that] the backing band will be one of the best sessionists. [The members are only] from Singapore. We have an array of musicians specially chosen just for this concert, so I'm really also excited to showcase our homegrown talents.
 

 

View this post on Instagram

 
Danny, what have you enjoyed the most in the process of organising this concert?
DANNY: It's not really an enjoyable [process] because you don't know what's going to happen post-COVID. [But] I will say this: every time you talk to event producers or concert organisers, the moment they see the audience smiling, and the moment you see the artists enjoying themselves, and the moment you see the connection between [the] performance and [the] audience, I hate to use this cliched word, but it's truly priceless. After two years of not having that enjoyment, that's worth every [bit of] effort. [We had] sleepless nights, we had to fly to KL to talk to people, and [we had to] call for urgent meetings. It was hard, but we did it for the people, for the team. We are going to work hard to make sure that it's one of those nights that people will remember for a long time. 

"It was hard, but we did it for the people, for the team. We are going to work hard to make sure that it's one of those nights that people will remember for a long time."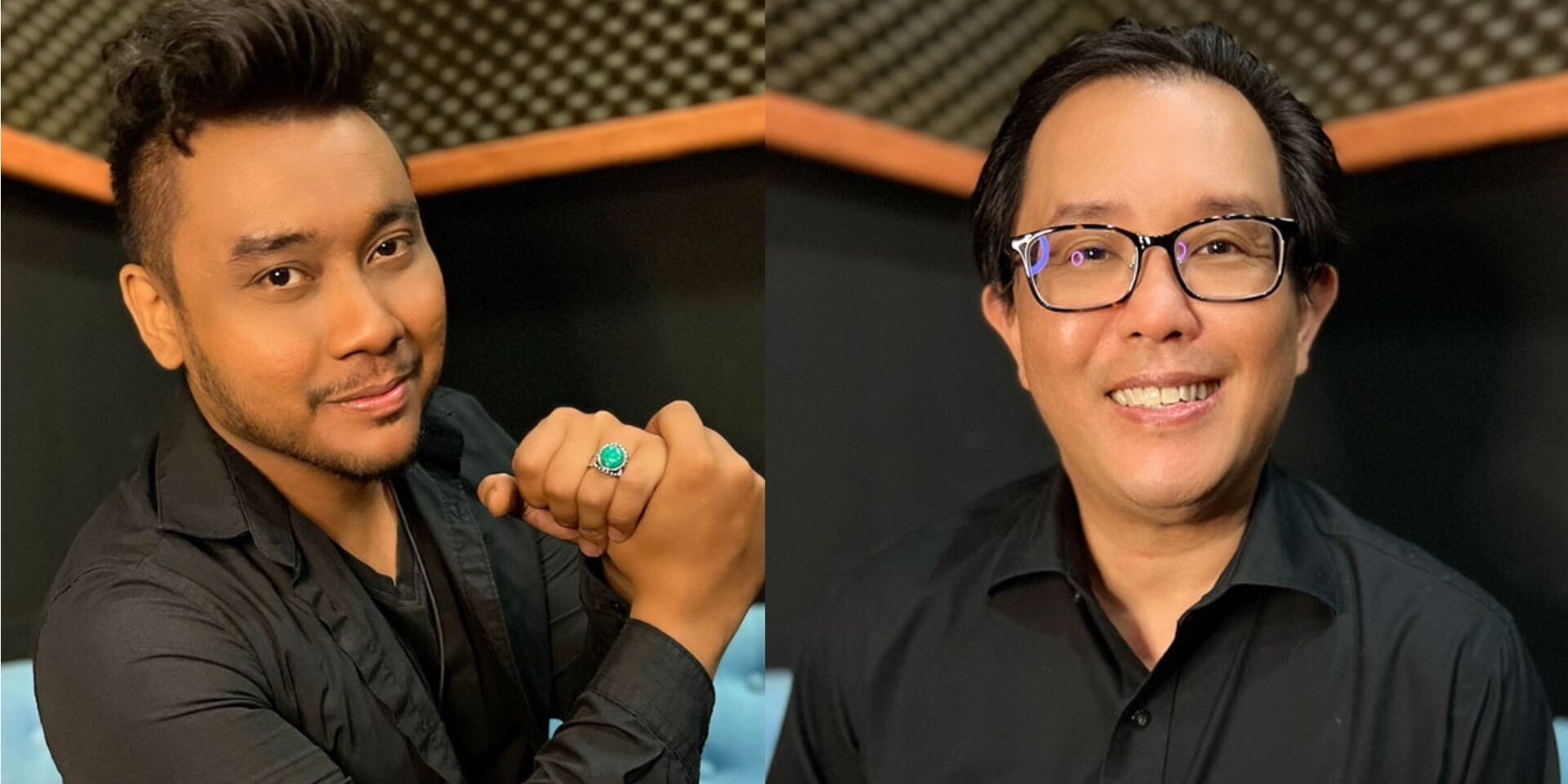 After Muzik Lagenda, what's on the table for the two of you and Newsantrara Asia?
AWI: Definitely a four-day break right after the concert (laughs). I really learned a lot and there's no doubt that Danny's event management skills are really top-notch. [It's no wonder] that he's teaching all these in SMU (Singapore Management University). I'm really proud that we have this event running and there are many more events, including not only music-related ones, but [also] bazaars, podcast series, conversations, and events that will really have meaning. Even [as] a wedding events company, there are also many more [plans] lined up for Newsantara Asia.
DANNY: Also Halal concepts and marketing and F&B. There's so much potential. But I have to say as a non-Malay, I think there could be more interactions between our people and I think music, food, lifestyle, fashion, and dialogue are very important. There's no point in talking about racial harmony and wearing different cultural clothes [if] we don't talk to each other, we don't listen to each other's music, or we don't collaborate. Have a Malay song with a Mandarin artist [and so on]. To me that is definitely much more powerful — two young people coming together, understanding each other's culture through music, lifestyles, and festivals.
My motivation is not just to put our amazing Malay artists up on stage together with Awi, but it's also to connect [people] more. That's so important for the future. One of my strongest motivations is to do cross-cultural work. Awi worked with a Korean instructor, and we're going to do more.
---
This interview has been edited and condensed for brevity and clarity.
---