LASALLE College of the Arts' Rock & Indie Festival (RIF) is returning for its sixth edition this year.
Dubbed as "Singapore's only music festival focusing on the rock and indie genres", RIF 2023 will see eight homegrown artists bring their original music to festival-goers.
The festival is scheduled to be held on 10 and 11 February at the Flexible Performance Space and Campus Green, LASALLE College of the Arts, from 5 PM to 9 PM. 
The first day will feature performances from pop/R&B artist LAYYI, alternative rock/new wave band Made with Monsters, alternative/indie artist Krysta Joy, and progressive metalcore band Aggressive Raisin Cat. On the second day, rock band MRTNS, open call finalist monda(e), multi-talented rising act Venus Landing, and alternative rock band KRUNKLE THE BAND will take the stage.
Promising two music-filled evenings of spectacular live performances from a lineup spanning rock and indie genres, RIF 2023 will provide a space for Singaporean music lovers to "riff it out" and get to know both established and budding homegrown musicians in the local rock and indie music scene.
Since its inaugural edition in 2017, LASALLE College of the Arts' Rock & Indie Festival (RIF) has highlighted talents in the local music scene, allowing them to use the platform to showcase their music. This year's edition aims to reignite the excitement for music festivals and allow Singaporeans to show their support for our local artists in person now that COVID-19 measures have been relaxed. 
Admission to the event is free. Follow RIF 2023's Instagram for more information and updates on ticket reservations. 
---
Check out RIF 2023's full performance schedule here: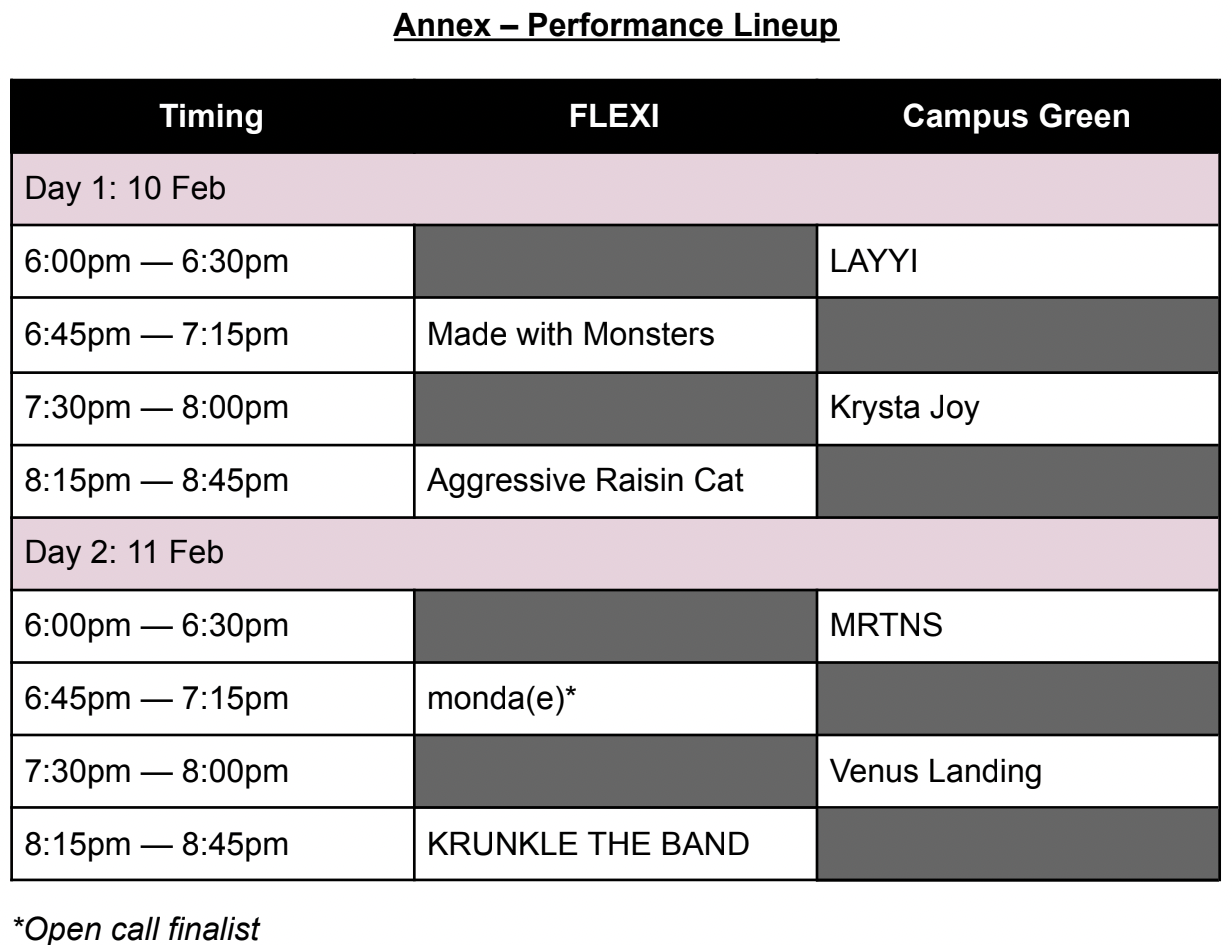 ---