This year's National Day Parade theme song has just been unveiled!
'The Road Ahead' is a moving tribute to all Singaporeans who have stood strong as one united people in these tough pandemic times. The song is an upbeat track that ties in well with this year's theme for the parade — 'Together, Our Singapore Spirit'. 
Featuring performances by a racially diverse selection of homegrown talents consisting of Linying, Sezairi, Shye, and Shabir, this year's music video was shot at iconic locations including the Singapore River and Gardens By the Bay. It was directed by acclaimed filmmakers Huang Junxiang (Ramen Teh, Buffalo Boys, Apprentice) and Jerrold Chong (Piece of Meat, Automatonomy, What Has To Be). 
The uplifting anthem was written by singer-songwriter Linying and music producer Evan Low. Returning as music director this year is Dr. Sydney Tan, who also helmed the parade's music the past few years. 
A sure sign that the song has been making waves in the community, fans soon asked songwriter Evan for the chord charts to 'The Road Ahead', which resulted in him posting them on his Instagram stories. Now, Singaporeans can both sing and play along to this year's heartstirring NDP anthem: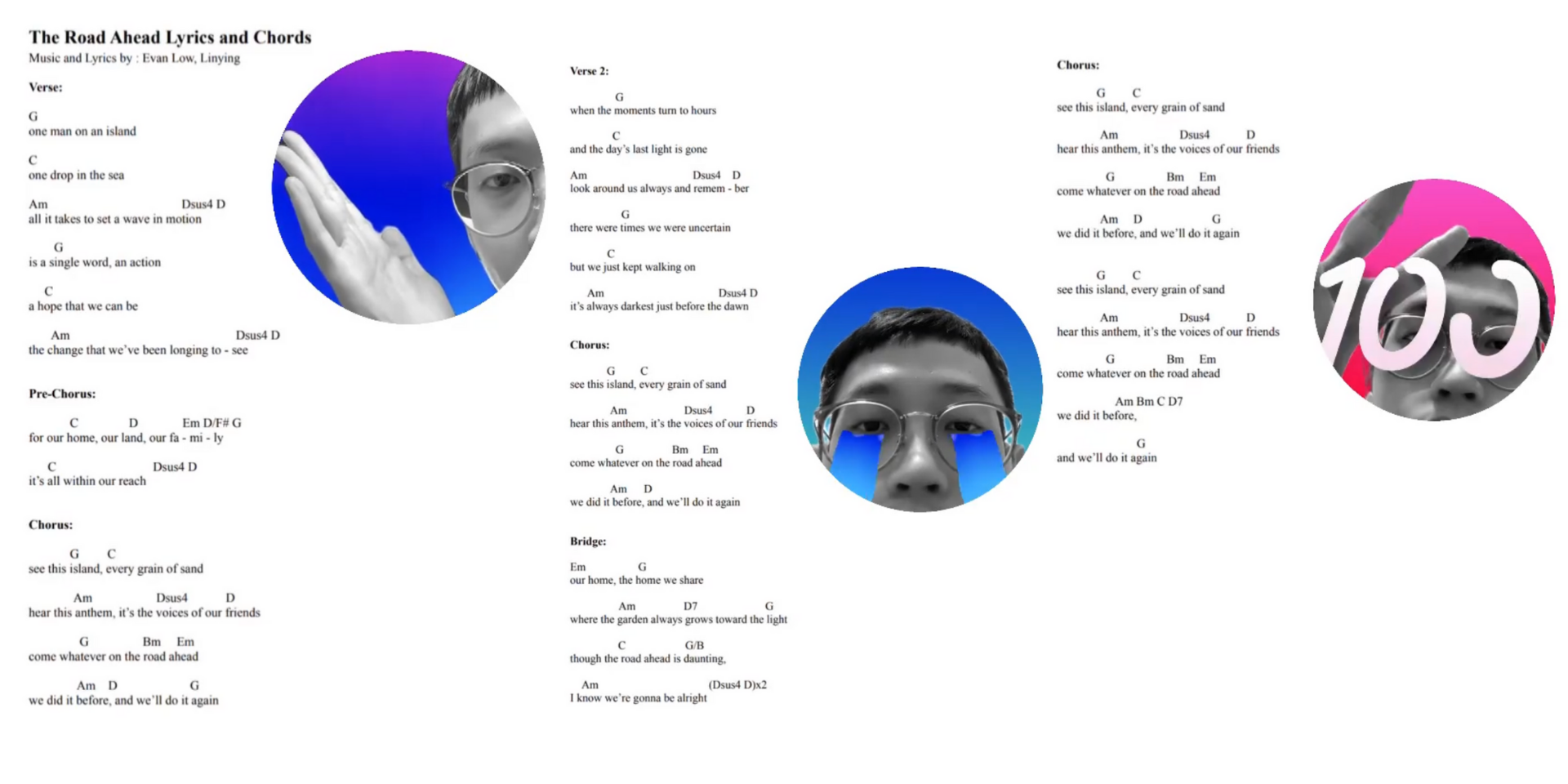 Photo Credits: Evan Low / evanturetime's Instagram (@itsevanturetime). 
The public will not be able to ballot for tickets to physically watch this year's NDP due to COVID concerns.
Instead, invitations will be extended to front line workers and community volunteers to attend the show on the 9th of August, in recognition of their efforts in helping to combat the pandemic. 
It was also announced earlier this week that only fully vaccinated individuals may form the audience of the parade, which is set to return to The Float @ Marina Bay this year. 
---
---