First starting out in 2014 with a tribute song for the late Lee Kuan Yew, 'You First Beloved', the Singaporean singer-songwriter Dominic Chin now has two albums under his belt - License to Cry and Re:Licensed to Cry. Chin's lyrics touch on subjects that are personal to him and from his experiences, such as the turbulences of a relationship, the dreadfulness of an existential crisis, and challenging societal norms.
 

 

View this post on Instagram

 
His most recent release, Re:Licensed to Cry is made up of reimagined and rearranged takes of tracks from his debut release, with household and emerging names from the Singaporean music circuit in Jean Seizure, Gail Belmonte, Jason Yu, Sherman Zhou, Marian Carmel, Count Vernon, and Haneri. Tracks are reexplored in diverging poles; in one, upbeat pop number 'BETTER' metamorphoses into a stripped-down ballad with Sherman Zhou.
We recently caught up with the singer-songwriter following his recent performance at IMC Live Global and *SCAPE's urban sonic Music Festival, as he shares with us what he's been up to, his pre-show rituals, working with the esteemed collaborators on his album, and what's in store for the rest of the year.
---
Hey Dominic Chin! It's been some time since your last performance at urban sonic Music Festival - how have you been since, and tell us what you've been up to.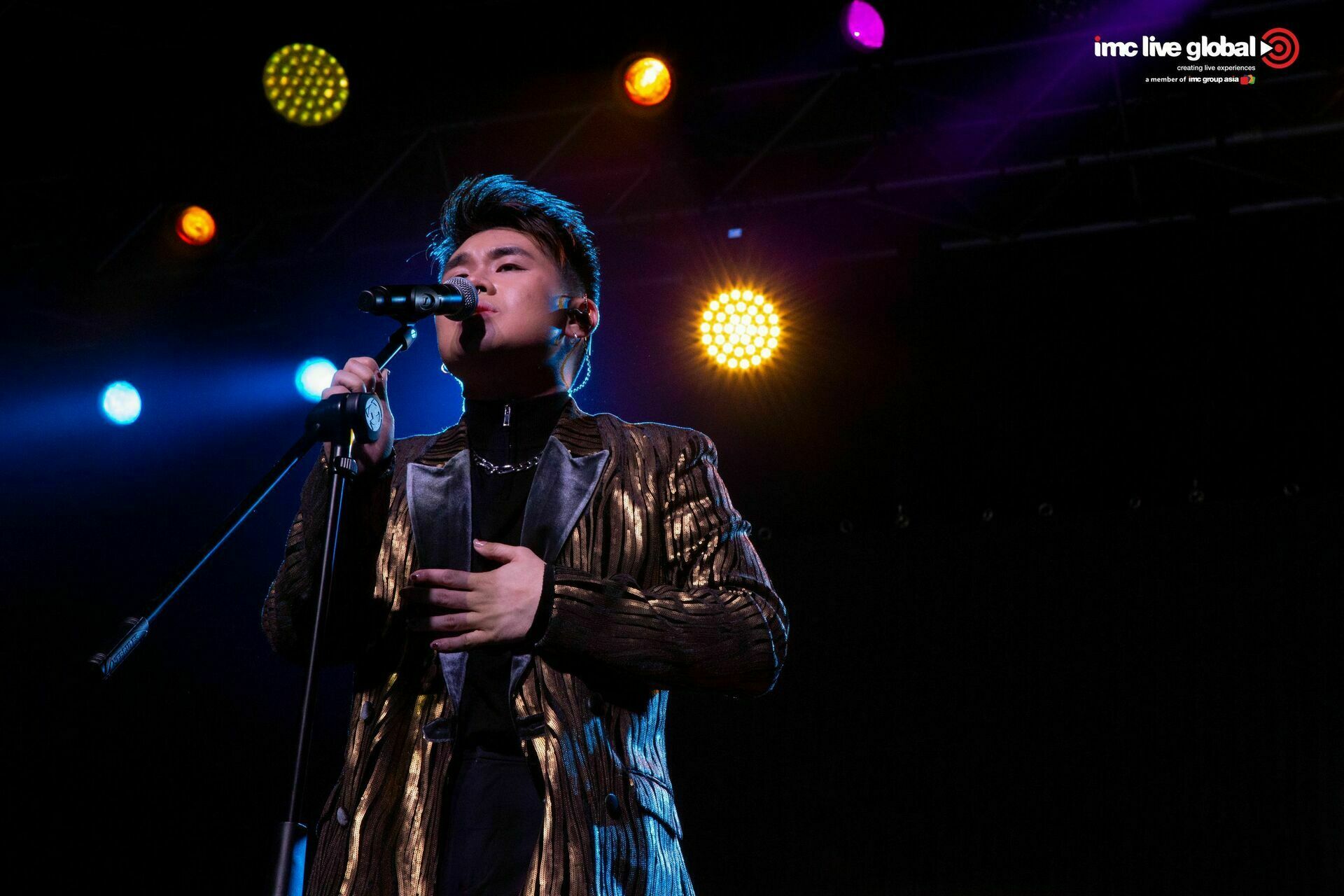 Hiii, I've been very good, thanks for asking! It honestly doesn't feel very long since Urban Sonic because I still think about it today actually! I put a lot into the preparation and it's always fun to do it with people you adore and you respect tremendously. I have been singing for other people actually! I recently was asked to sing for Lee Ann Gie at her jazz set at Esplanade, so that was fun.
Talk us through the atmosphere of your set on that evening. Do you usually have pre-show jitters? What are some rituals or habits that you have before you step on stage, if any?
As a singer, warming up is everything personally, so I usually spend hours and hours just making sure that my whole being is warm enough. I still do get pre-show jitters, especially for this show because it's a festival! People might not be there for me, and for the band before or after me, so I was nervous that I couldn't serve what people were expecting, but it was fun! Vocal scales, vocal trills, and a lot of reciting my lyrics coz 45 minutes is loooong. 
 

 

View this post on Instagram

 
It's been an eventful time for you. Distinctly, last year, you had several back-to-back reimagined releases in Re:Licensed To Cry. Given its title, were there any tears shed when recording it, and how do you feel revisiting those tracks now?
I recorded a big part of the album recovering from a throat infection actually, so that was a struggle already! But other than that, the recording was entirely enjoyable and eye opening. I'm in a different place to when I first wrote the songs, I have grown and processed the songs properly, having sung it a few times for live showcases etc; it was a cathartic process for me. Doing the album, I got to collaborate with 7 very different artists to bring the storytelling of the songs to a whole new level. The only song that was still a little hard is definitely 'here', the one I sang with Gail Belmonte. At my concert last September, I teared up at the rehearsal and soundcheck. Both Gail and I recently lost our grandmothers in recent years, and so it was an emotional song for both of us. 
 

 

View this post on Instagram

 
The featured artists on the album hold some serious weight. Jean Seizure, Gail Belmonte, Jason Yu, Sherman Zhou, Marian Carmel, Count Vernon, and Haneri. Talk us through the collab picking process; did you already envision their voices on the specific tracks they were featured in? How was it like working with each of them?
I've known a few of them pretty well already from before, so I was really really excited to get them involved, and I knew exactly which songs to involve them in. Jean Seizure and I went way back, we covered a few songs together in the past, and she actually shot the music video for CLSE2U in 2018, and her voice fits perfectly in the range and genre. Sherman Zhuo and I met when he interned at LUSH 99.5 and then he coincidentally was my sergeant in the army! I'm a huge fan of all the artistes I collaborated and I am so glad that all agreed to be part of the album the moment I asked. Haneri was such an exciting one because I was a fan of hers before I became friends with her, and singing in the same room with her was INSANE. She is such a strong vocalist. I enjoyed riffing with her to our song 'cry', hahaha. 
 

 

View this post on Instagram

 
Do you think you've done a lot by your standards in the past two years? Why or why not?
I know I did everything that felt right to me in the past 2 years, and I am proud of what the outcome is. I felt that there was still more to be explored from my first album 'License To Cry' in 2020, I actually felt it to be extremely rushed, and so I took this opportunity to borrow the voices of my fabulous friends to sing on this amazing album. I've had the honour in meeting very brilliant people in the past 2 years that I can't wait to work with, and I know I'll continue to do what feels right to me in 2022 and so on!
Tell us something about Dominic that very few know. Will we see more from him in 2022, or will we see the artist taking a break?
Haha, I am definitely well rested already! But taking a short break nonetheless, making music takes time for me, to collaborate with the right people, to write about what I'm feeling. It takes a while for my head to translate what I'm feeling in my heart into words, or at least - words that make sense - so I'm definitely just spending time writing and vibing with different sounds! I have started on the moodboard, started on putting together a playlist of songs that I enjoy and perhaps, songs that can inspire my next sound! A short break for now, but I definitely have plans to release things in 2022!
---