Since the beginning, we've been reviewing music on Hear65 every week, and now we'd like to break away from this tradition and pass the baton over to you - the listeners of Singapore's music. If you've ever been itching to share your thoughts about a new track release, or simply want to introduce good earworms to more listeners, then read on. 
For the uninitiated, the Hear65 website has a Review Function to help visitors discover and gain greater insight into the music in Singapore. Good music should always be shared, and we are inviting contributions from friends and fans of our homegrown artists.
Every two weeks, the Hear65 team will select 6-8 reviews every two weeks to publish in a Review Round Up article. Just check out the latest releases and submit your review for a chance to be featured. 
Here's what readers have to say this week:
---

Jas LoveLife, 90/100: Melody is strong and tuneful, and complements very well with Nat's gentle vocal. Lyrics are interesting with meaningful phrases.
"Hey there, it's been a while my friend 这世界 好像暗了一点 一定 是少了天空 给我的笑脸 我 闷得可怜"
---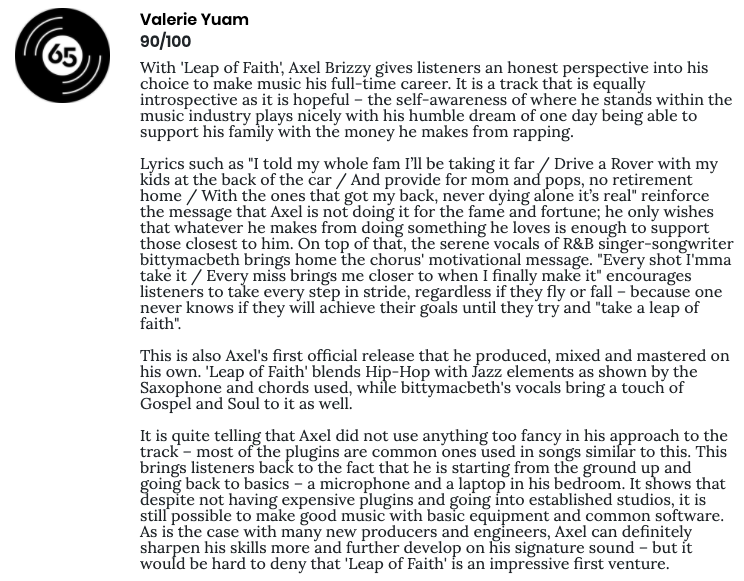 Valerie Yuam, 90/100: With 'Leap of Faith', Axel Brizzy gives listeners an honest perspective into his choice to make music his full-time career. It is a track that is equally introspective as it is hopeful – the self-awareness of where he stands within the music industry plays nicely with his humble dream of one day being able to support his family with the money he makes from rapping.
---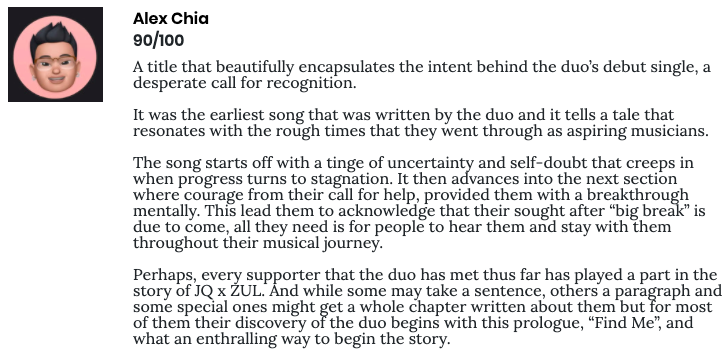 Alex Chia, 90/100: Perhaps, every supporter that the duo has met thus far has played a part in the story of JQ x ZUL. And while some may take a sentence, others a paragraph and some special ones might get a whole chapter written about them but for most of them their discovery of the duo begins with this prologue, "Find Me", and what an enthralling way to begin the story.
---

Yuanyi, 100/100: From following her weekly song covers to her first single release, this is undoubtedly a huge milestone for Torrivicks. I could tell "Who Knew" is a song based on the artist's own experience yet it is not the usual love song you've heard before.
---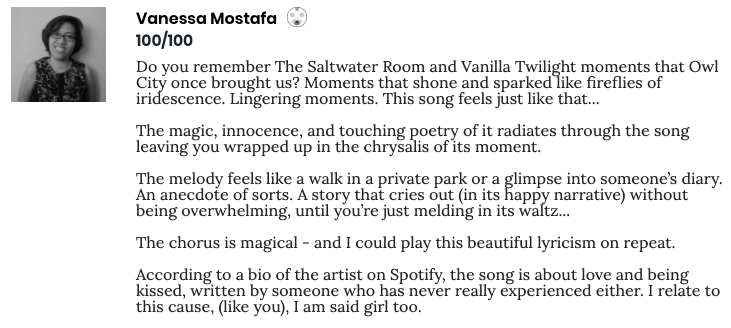 Vanessa Mostafa, 100/100: Do you remember The Saltwater Room and Vanilla Twilight moments that Owl City once brought us? Moments that shone and sparked like fireflies of iridescence. Lingering moments. This song feels just like that...

In Partnership with Esplanade's Baybeats Budding Writers Programme

---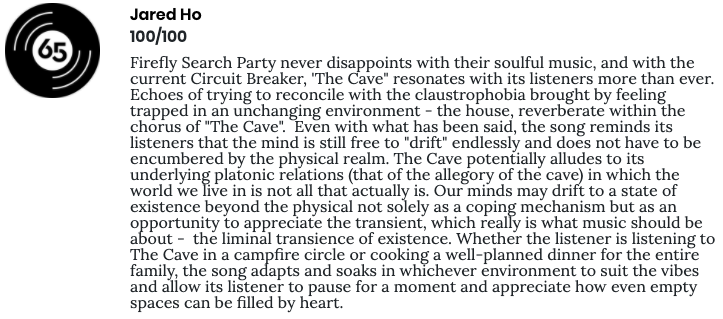 Jared Ho, 100/100: Firefly Search Party never disappoints with their soulful music, and with the current Circuit Breaker, 'The Cave" resonates with its listeners more than ever. Echoes of trying to reconcile with the claustrophobia brought by feeling trapped in an unchanging environment - the house, reverberate within the chorus of "The Cave".
---

Khaimil Shah Vi Eternia, 100/100: Listening to Yesterday, Today and Always is so catchy. The chorus is so addictive. In addition to the punk rock sound, the lyrics is in-depth, relating to breakups and moving on. The addition of violin sound in one of the songs (Break Free) reminds me of Yellowcard days, something that I would love to listen to again and again.
---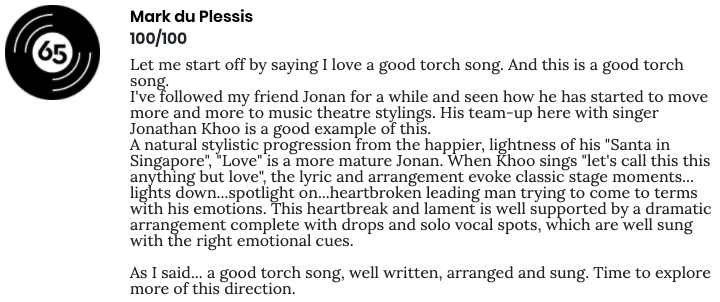 Mark du Plessis, 100/100: A natural stylistic progression from the happier, lightness of his "Santa in Singapore", "Love" is a more mature Jonan. When Khoo sings "let's call this this anything but love", the lyric and arrangement evoke classic stage moments... lights down...spotlight on...heartbroken leading man trying to come to terms with his emotions. This heartbreak and lament is well supported by a dramatic arrangement complete with drops and solo vocal spots, which are well sung with the right emotional cues.
---

Ann Nguyen, 100/100: Baby, It's Been a Long Time is beautifully rhythmic, calming and heartfelt. Its endearing lyrics and instrumentals put one in a slow dancing scene in an 80s movie, with an invitation of love and assurance.
---

Samuel Venditti, 90/100: A sophomore EP that's a step above Zoodreams, Wake Up Pls solidifies Woes' sound as a band. Names such as Chon, Elephant Gym and Delta Sleep come to mind while listening to Wake Up Pls and it's obvious the band pays homage to a wide variety of Mathrock/ Indierock.
---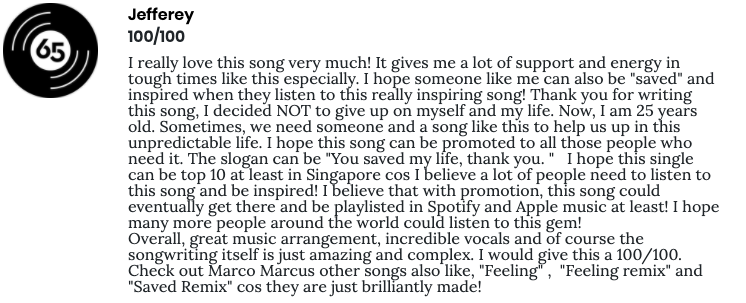 Jefferey, 100/100: I really love this song very much! It gives me a lot of support and energy in tough times like this especially. I hope someone like me can also be "saved" and inspired when they listen to this really inspiring song!
---

Bernice Ong, 85/100: 'Serenade' is a spoonful of honey for anyone who loves love. Upon first listen, I'm immediately captivated by its light, bubbly feel and welcomed by the percussion brush work. In this song, Jean has presented a warm slice of Parisian gypsy folk jazz that is refreshing for the local scene.
---