It was Friday, the 1st of April, and there laid a line outside *SCAPE's Underground of faces without masks, eagerly waiting to get their wristbands for the first standing gig without social distancing in over 2 years. No, this wasn't a cruel April fools joke - it really happened.
 

 

View this post on Instagram

 
Homegrown independent music label spikyfruits dished out a selection of bands which played music that demanded movement from the crowd. Hard hitting drums, playful guitar riffs, catchy synth keys, screaming voices - the night had it all.
Each act played a cover of a "meme" song of their choice; with the friendship-core quartet Carpet Golf, it was the iconic American sitcom Friends' theme song 'I'll Be There For You'. Pop-rock purveyor RENE surprised the audience with the inclusion of Marian Carmel (who rocked onto the stage in a dinosaur suit) to her band's lineup and performed a cover of MUNA's anthemic and celebratory  'Silk Chiffon'.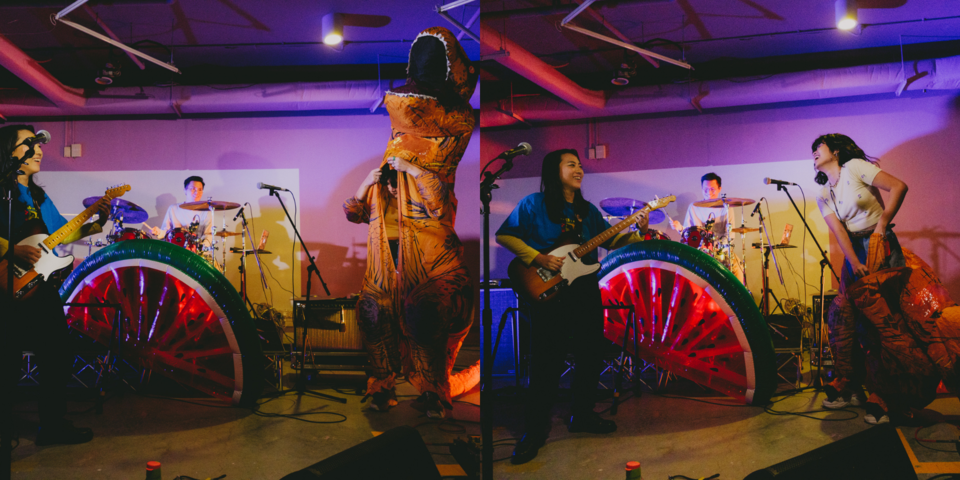 Electronia Sun Cell played a medley of Oasis' 'Wonderwall' and Smash Mouth's 'All Star', while the immaculate seven-piece Saints Amongst Sinners performed "the real National Anthem of Singapore", as quipped by lead singer Mateen.
Truthfully, I had no idea how things were going to pan out prior. I've gotten so used to all the social distancing measures, the seated gigs, the clapping-only reactions, and it just seemed peculiar to have it any other way.
However as the crowds gathered, the moment Carpet Golf's drummer Jordan Fern Khoo cued the rest of the quartet in for 'Brock Lesnar', everything dissipated. Almost like a natural reaction, the crowd started jumping, hands over each other's shoulders, moshing, crowd surfing – all forms of movement were taking place, free-flow.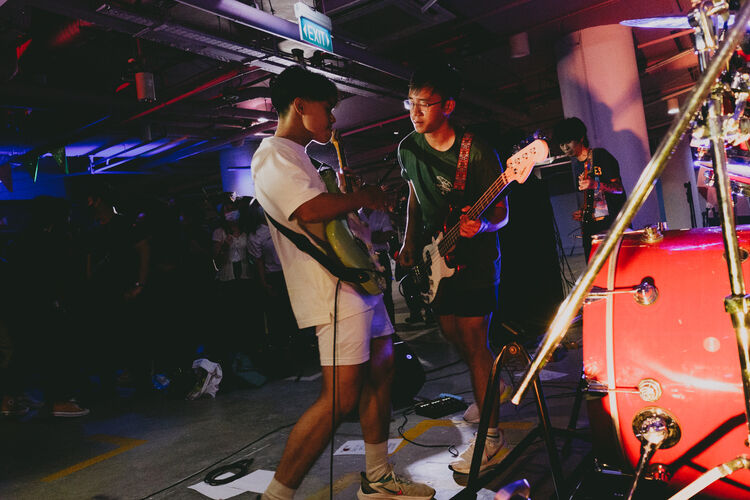 Spencer, the bassist for the golfers explained what it was like in an interview after their set: "Madness, chaos, havoc, everything was everywhere. It's out of control, and it's not necessarily a bad thing. We've been too tamed for too long."
Nathaniel, lead singer, touched on hearing the crowd singing their lyrics back to them, "[It was] very unexpected. This was a very over-stimulating thing, it was nuts, I don't think anyone expected that. I couldn't keep a straight face!"
If there had to be a quintessential band to welcome in the new dawn of measures and the road to return for gigging normalcy, there is no other but Carpet Golf. They kicked it off on a high, and got the crowd revved and ready for the rest of the night. 
The baton was then passed to RENE, backed by the same band from their maiden showcase at last year's Baybeats Festival. "It was insane, I think even before the pandemic, I never had a gig like this before. The energy was crazy, even with my In-ear monitors on I could hear the crowd screaming! I think everyone is excited to be back," she enthusiastically described those in attendance.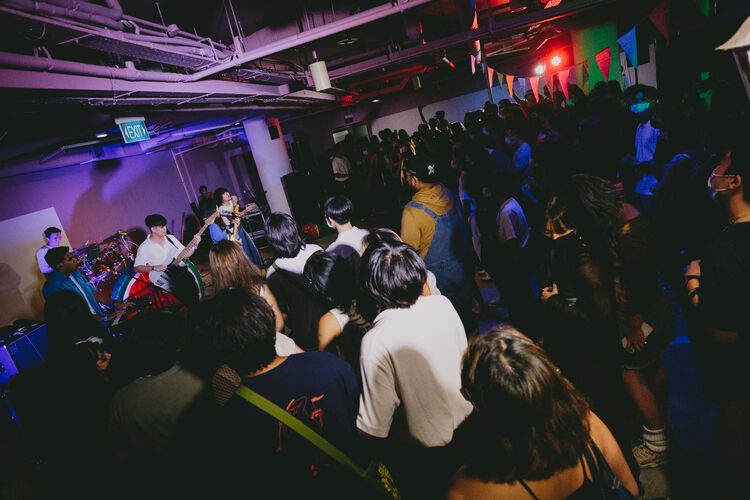 Marian Carmel also weighed in: "I think there's just a lot of pent up energy from the past two years, and it's a far cry from online shows. It was kinda like Stockholm Syndrome at first, thinking it wasn't that bad, but now that we're here, **** that!"
Carmel also told us that she was going to crowdsurf during Saints Amongst Sinner's set..and crowd surf she did.
Although the night was Daryl Hor aka Sun Cell's debut performance, you'd think he was a seasoned vet. He talked about the Fast & Furious franchise in between tracks, yet he was anything but. He remained cool, calm, and completely collected.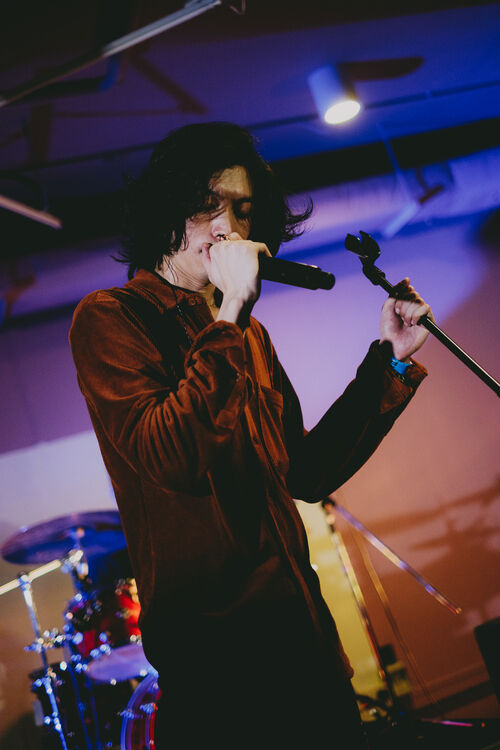 The electronica artist opened his set with his debut single 'New Year', and the crowd were swaying and dancing to every beat. "I think it's a bit surreal, watching all of these things come back. It feels like such a distant memory, and I didn't expect it. I think it's great, people need it," shared Daryl.
To cap the night off, Saints Amongst Sinners took to the stage. You could already tell they were a crowd favourite from the moment they walked up, the screams did not stop, and they sang every word of their songs.
 

 

View this post on Instagram

 
"Welcome home," Mateen screamed before the band went on an absolute sonical carnage. Day, keytarist and vocalist shared: "It's an irreplaceable feeling, we've been waiting 2 years to play the album this way, this is the right way to present our album."
The band also shared that the night served as a prelude to better things, as they told us that they "cannot wait to see other musicians doing their thing" in these new measures.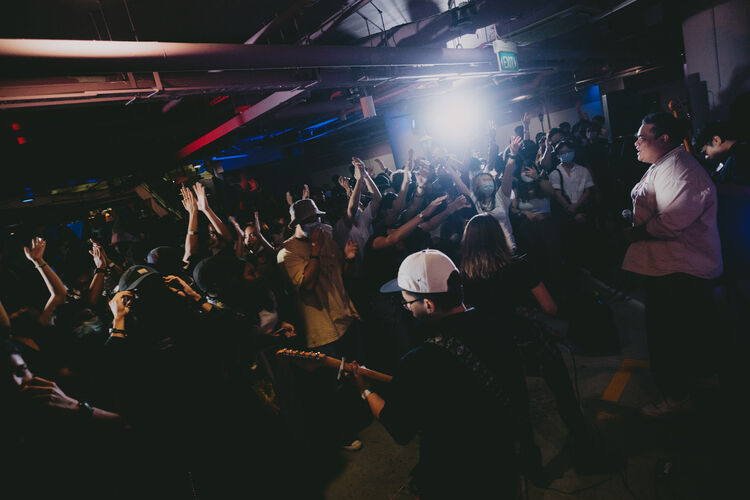 Darius Oon, part of the team that orchestrated the night, as well as the guitarist for Coming Up Roses and The New Modern Lights, talked us through what this meant to him: "I think it's a really important milestone, it was a pure chance that we got to do the first standing show without social distancing in over 2 years. Honestly, it's huge for us, the bands, and the audience."
"All of us musicians have been cooped up at home for the past 2 years, and while playing a livestream gig or to a bunch of seated people has its own merits, there's nothing like a live performance and just being in a crowd together, enjoying music."
Peng Sing, founder of the independent music label declared: "This is a good reminder of why we do what we do. Giving creative and energetic young people a platform and to just keep the music going."
Standing at the very back of the crowd during the night's culmination for Saints Amongst Sinners' set, one could barely see any of the seven band members as the stage had no elevation whatsoever. None of that mattered, though. 
Watching the crowd expressing themselves in whichever way they wanted to (bounded by minimal reastrictions) was the physical performance I needed to see. It was a beautiful sight to take in, and this writer never thought they'd experience something like that again after the haziness and blur that came with the pandemic. All was clear that night - it was a glorious abreaction.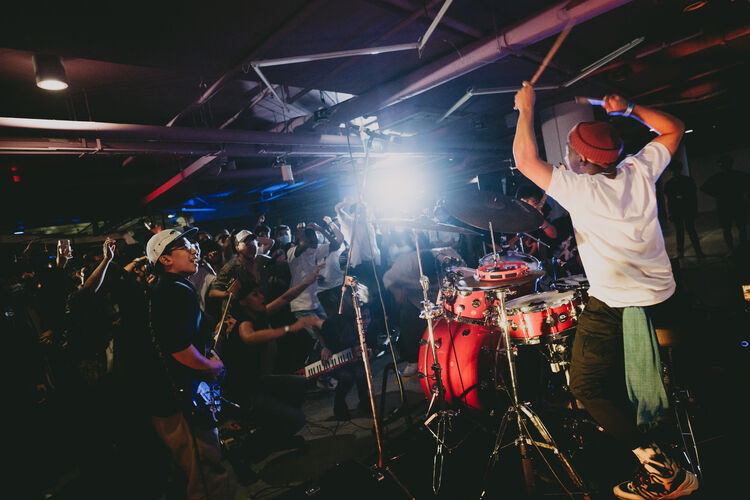 Writer's notes
After two years of never-ending pivots, restrictions, retractions, and social campaigns, live music is finally home again. One can trace the lines now, connecting the dots between the carpeted studio sessions to the cold concrete floors of gig spaces – more than anything, the moments spent making music, screaming and jumping at shows were always much more than cathartic releases or enjoyment. What is at work has always been so much greater than what we could see or even imagine. By many hands, an entire community and a scene is then forged.



There is no such thing as a lone hero or one designated saviour, we are all threads of the space in which music exists in Singapore. And with the return of standing gigs, we can finally feel and see those threads in all its diverse magnificence; it's in our voices, stomps, shoulder hugs, it's in all of us, and it's no one else's responsibility to cultivate it to greater heights but ours. 
---