2022 is on the horizon. From the highs of entering Phase 3 to the lows of the ever-changing restrictions, it goes without saying that we've all rode the rollercoaster that is 2021. One of the best things that happened over the course of this year was the resumption of live gigs through Esplanade, Baybeats, and *SCAPE, to name a few.
What better way to usher in the new year than a good ol' NYE gig? Here's a rundown of shows happening during this celebratory period for you to indulge in our nation's best, both digitally and physically.
---
ROXY X THE FOODBANK SINGAPORE DJ LIVESTREAM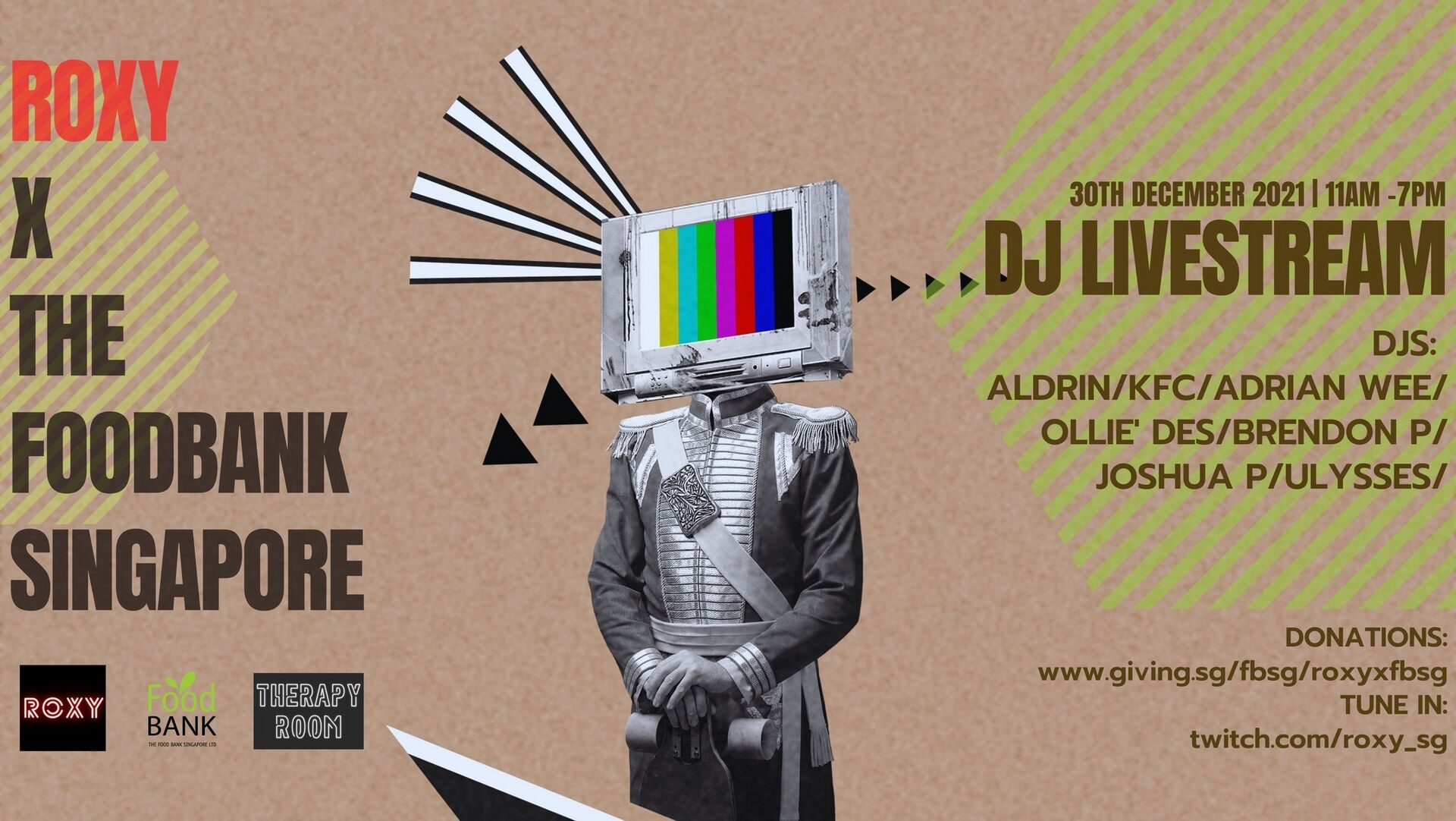 When: 30th December, 11AM
Where: Available for livestream here.
Tickets: Free

ROXY teams up with Foodbank Singapore for a fundraising campaign, happening on the 30th of December. Gear up for New Year's Eve with a stellar DJ ensemble in Aldrin, Joshua P, KFC, Ollie'Des, Ulysses, and Adrian Wee, and join the call for raising funds. Running for 8 hours, the collective aims to raise SGD$5000 for FoodBank Singapore, who have been providing free meals and dry rations to vulnerable families and individuals in Singapore since 2012. 
Donations can be made here.
---
North East Social Club Presents This Is Happening 
 

 

View this post on Instagram

 
When: 31st December, 6PM
Where: The Projector
Tickets: $30 - $35
The Singaporean collective has had a busy 2021 - from helping with two tapes released by BGourd in Veggie Wraps, Vol. 3 & 4, to setting up art pop-ups; they're now organising a New Years Eve gig at The Projector as they did in 2019. Supported by homegrown music label spikyfruits, the line-up includes a range of iconic bands and emerging artists in Krysta Joy, BGourd, Saints Amongst Sinners, Xingfoo&Roy, Carpet Golf, Forests, Cues, Blush, and Amateur Takes Control (yes, it's really happening!)
Tickets are available for purchase here.
---
Tonight with WOKFUNK: Class of 2022
 

 

View this post on Instagram

 
When: 31st December, 7PM, 8:30PM & 10PM
Where: Esplanade Outdoor Theatre
Tickets: Free
Continuing on from their many free shows and supporting Singaporean acts, Esplanade teams up with the comedic-musician duo WOKFUNK to curate 6 live performances by Marian Carmel, Akeem Jahat, Vivien Yap, Sambal Snake, Dominic Chin, and Owen Li. They will be performing exclusive unreleased tracks, on top of covers of their favourite songs as well as being interviewed by WOKFUNK. Allocated seatings are on a first come first served basis, so get there early!
For more information, visit Esplanade's website here.
---
Mediacorp's Let's Celebrate 2022
 

 

View this post on Instagram

 
When: 31st December, 11PM.
Where: Livestreamed on meWatch.
Tickets: Free
Mediacorp's annual countdown show is happening once again! This time, featuring performances including Kit Chan, Nathan Hortono, Taufik Batisah, Yung Raja, Iman Fandi, Jasmine Sokko and more. They will be performing at our heartlands and iconic places such as Jewel Changi Airport, the Dragon Playground at Toa Payoh Lorong 6, Jalan Besar Stadium, and the Bulim Bus Depot. Sit back and kick back with Let's Celebrate 2022 LIVE!
---
Marian Carmel + Jean Seizure: Indiego Recess
 

 

View this post on Instagram

 
When: 31st December, 10:30 PM
Where: TikTok Live
Tickets: Free
If you're not itching for a night out, and you'd much rather spend it at home - Marian Carmel and Jean Seizure have got you covered. Tune into their TikTok live session on Mediacorp's Indiego as they serenade you with their new originals, selection of tunes, "chaos and good vibes."
---
Loof FM
 

 

View this post on Instagram

 
When: 1st January, 10AM
Where: Available for livestream on their website, Singapore Community Radio's Twitch, and Facebook Live
Tickets: Free
As Loof bids a tearful farewell after 17 years of glorious dancefloor moments, they're putting up a 12-hour virtual show one last time, casting the spotlight on our Singaporean creatives and selectors. Dean Chew, one half of the brains behind music label Darker Than Wax alongside KiDG and DJ Itch will be helming the 'Wax On Wax Off' segment as they spin off their vinyl crate selections, as well by an indie-anthem portion called 'Pops Of The Top' helmed by Ginette Chittick alongside Kim Wong. It all continues on with 'The Loof Mix', guaranteeing that KFC, Daryl Knows, Cats On Crack, Joshua P, Tyler Made and Ramesh will keep the grooves grooving. 
Avid listeners of the long-gone and adored Lush 99.5FM are also in for a treat, former radio DJs for the station Tracy Phillips and Elias Soh will be hosting a series of conversations with Singaporean creatives such as Priscilla Shunmugam, Livy Von Goh, and Amanda Lee Koe.
---