Charlie Lim, Gentle Bones, M1LDL1FE, Linying, Forests, MYRNE, Yung Raja, and Fariz Jabba are names we're not unfamiliar with. Their music has taken people by their neck and shoulders, garnering listeners locally, regionally, and internationally. Ask most of these artists, though, and you'll find that there was more often than not a standout production that served as a jumping-off platform, amassing views, viewers, and recognition aplenty.
Here's a look back to the tracks that broke them onto the scene and catapulted these Singaporean artists to where they are today.
---
There Is No Love - Charlie Lim (2011)
Charlie Lim's first release was his 4-song self-titled EP in 2011, with the incorporation of neo-soul and post-rock elements alongside lyrics deeply rooted in melancholia. While all the songs featured in the EP remain timeless in every shape and form, 'There Is No Love' stood out amongst the rest.
Here, Lim introduces himself through the exercise of his lyrical prowess: "When did we end up playing in the dark?/Were we really tired of stalling or just afraid of false starts?/No future in nostalgia, no blessing in brokenness." ''There is No Love' still remains one of the most viewed songs on Lim's YouTube channel. The entire EP was reinstated back onto his Spotify during the height of Circuit Breaker in 2020, aptly accompanying all of us during such an unprecedented and worrying time.
 

 

View this post on Instagram

 
Riding on the wave of 'There Is No Love' and his EP release, Lim went on to play shows and festivals all over the Asian region - Mosaic Music Festival in Singapore, Clockenflap in Hong Kong, Jarasum Jazz Festival in Korea, Java Jazz Festival in Indonesia, and Urbanscapes in Malaysia. Now, armed with a heavy catalogue of releases, crossing through variations of genres and sounds through multiple local/cross-country collaborations, Lim's career thus far has transcended levels not many have reached. 
---
Until We Die - Gentle Bones (2013)
Joel Tan who releases music under the moniker of Gentle Bones emerged onto the scene with 'Until We Die', topping the Singapore iTunes chart at number 1 and its music video gaining over 10 thousand views within a week of its release at the time. The music video features scenic views of Singapore in the backdrop while Tan, visibly shaken, is being chased by people cladded in rabbit masks. An uncommon sight for fitting for a rare talent.
What started out as a hobby for Tan has now birthed into a successful ongoing musical career with 25 singles, 4 EPs, a collaborative album with MYRNE, culminating in most recently, his debut album in 2021.
The music video for 'Until We Die' has now amassed over a million views. Following the success of it, Tan became the first Singaporean to sign with Universal Music Singapore in 2015, held two sold out shows at the Esplanade in 2016, a collaboration with TOPMAN Singapore, and was featured in Forbes's 2016 Asian edition of 30 under 30.
---
In Your Arms - M1LDL1FE  (2015)
Singaporean indie-rock outfit M1LDL1FE started a nation-wide buzz when they released 'In Your Arms' in 2015. Formerly known as Take Two, the quintet at that time showcased our heartlands and city, from HDB carparks to Gardens By The Bay through the use of long exposure shots and a light painting stick. Instilling a sense of belonging and pride, their lyricism captured a zeitgeist for the young and young at heart beautifully, echoing: "Just know the river runs back to you/Just know I'll always be/In your arms, I will be."  An idyllic ode to what is generally deemed mundane, almost like a love letter to the streets we walk on every day. 
M1LDL1FE, now a quartet, have released 5 singles and 2 EPs under their name. They've opened for bands such as Walk The Moon, Last Dinosaurs, and the legendary Brit-pop band Travis when they played in Singapore. They have also played festivals like Baybeats and IGNITE!, as well as taking their showmanship internationally to countries like Spain, China, Philippines, Malaysia, China, and Thailand.
---
'To Ü' (MYRNE remix) - MYRNE (2015)
Manfred Lim, better known as MYRNE started out by uploading his home-made beats onto streaming platform Soundcloud while he was still studying in College - racking up ten of thousands of followers during his second year. In 2015, Lim broke (sound) barriers when he gained the attention of Paul Devro, the creative director of acclaimed American DJ Diplo's record label, Mad Decent when he posted a remix of Skrillex & Diplo's 'To Ü'. 
Devro requested Lim for more songs, which in turn birthed his breakthrough EP released under Mad Decent - 'Softsins'.
Now, the self-taught producer has 4 EPs, a collaborative album with Gentle Bones and 1 album to his name, whilst making history as he became the first Singaporean to perform at ULTRA Miami and the famed Tomorrowland in 2018. Most recently, he also did a set around some of Singapore's iconic places in a bid to capture and revitalise some of the country's forgotten roots.
---
Sticky Leaves - Linying (2016)
Singaporean singer-songwriter Linying propelled herself onto the scene with 'Sticky Leaves'. Charting on number 27 on Spotify's United States Viral 50 playlist -  she gripped listeners from the get go, posing questions that demanded your attention wholey: "Is there another world you know? And do you burn?", unhurried with her vocals, announcing her elusive self, and leaving listeners with no options left but to pay witness.
The track is accompanied by a kick-drum imitating a heartbeat, a part of us that never ever rests. Linying's rise towards her stardom is a feat that hasn't rested either. After the release of her debut EP 'Paris 12', she announced her "12 In The World" tour where she played in Austria, Germany, London, Australia, Korea, and Singapore.
Fast forward to present times, her aforementioned track (which boasts over 6 million streams on Spotify) was featured on HBO's ongoing series "Industry"; she co-wrote the theme song of 2021's NDP: 'The Road Ahead', and has since collaborated with Death Cab for Cutie's guitarist Chris Walla for her recent single 'Daylight Blows Into One Door' for her forthcoming debut album.
---
Tamago - Forests (2016)
Math-rock/emo trio Forests shattered the scene with 'Tamago', taken from their debut album 'Sun Eat Moon Grave Party'. Anyone who's been to a Forests gig knows how legendary their nights were. Think: sweat-filled faces, crowd-surfing and screaming the lyrics right back at them, with 'Tamago' being one of the, if not the most memorable songs to catch live: "You asked if I love you?/I said 1 2 3 4ever (you know what comes next) that's what she said!"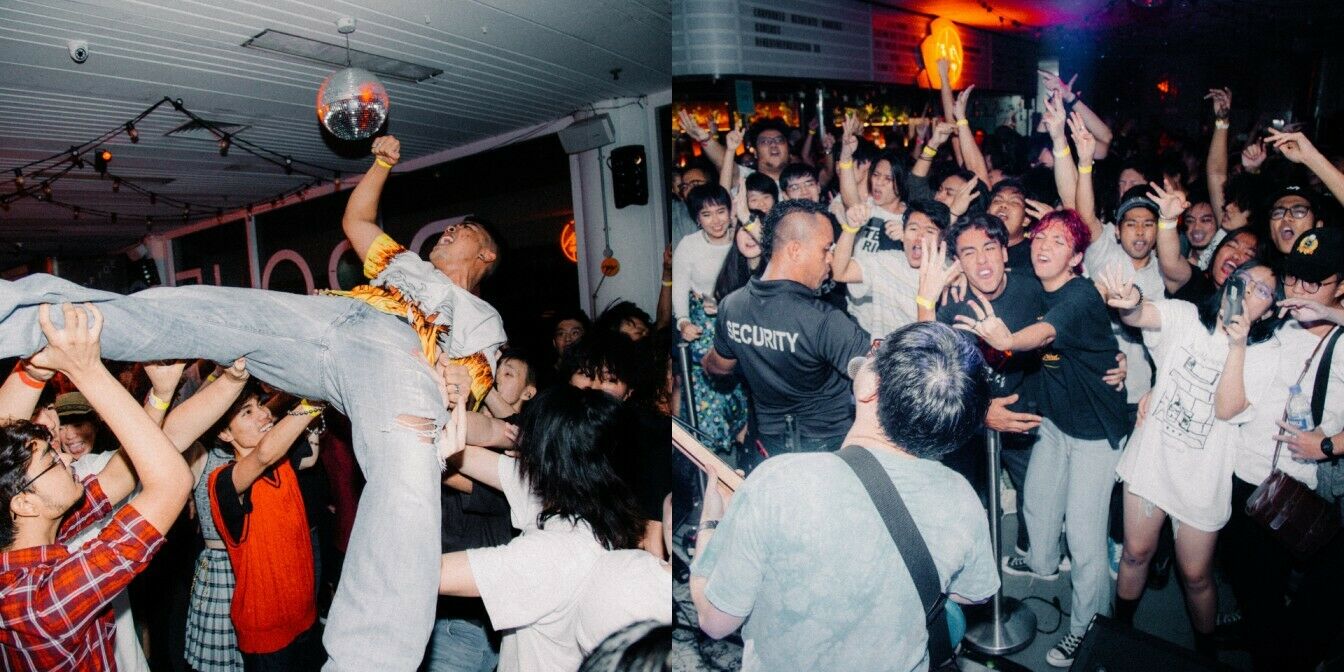 Forests at The Intermission Bar, photographed by Shaiful Bahri (4statine_)
Cited as the 100th 'Greatest Ever Emo Song of All Time' by New York based Vulture Music, it goes without saying that their playful jabs of the (midwestern) genre through lyrics, hypnotizing riffs and driving drum snares have reached international shores - garnering listeners from all over the world and making dents in prominent US states like Los Angeles, Chicago, Dallas and Houston.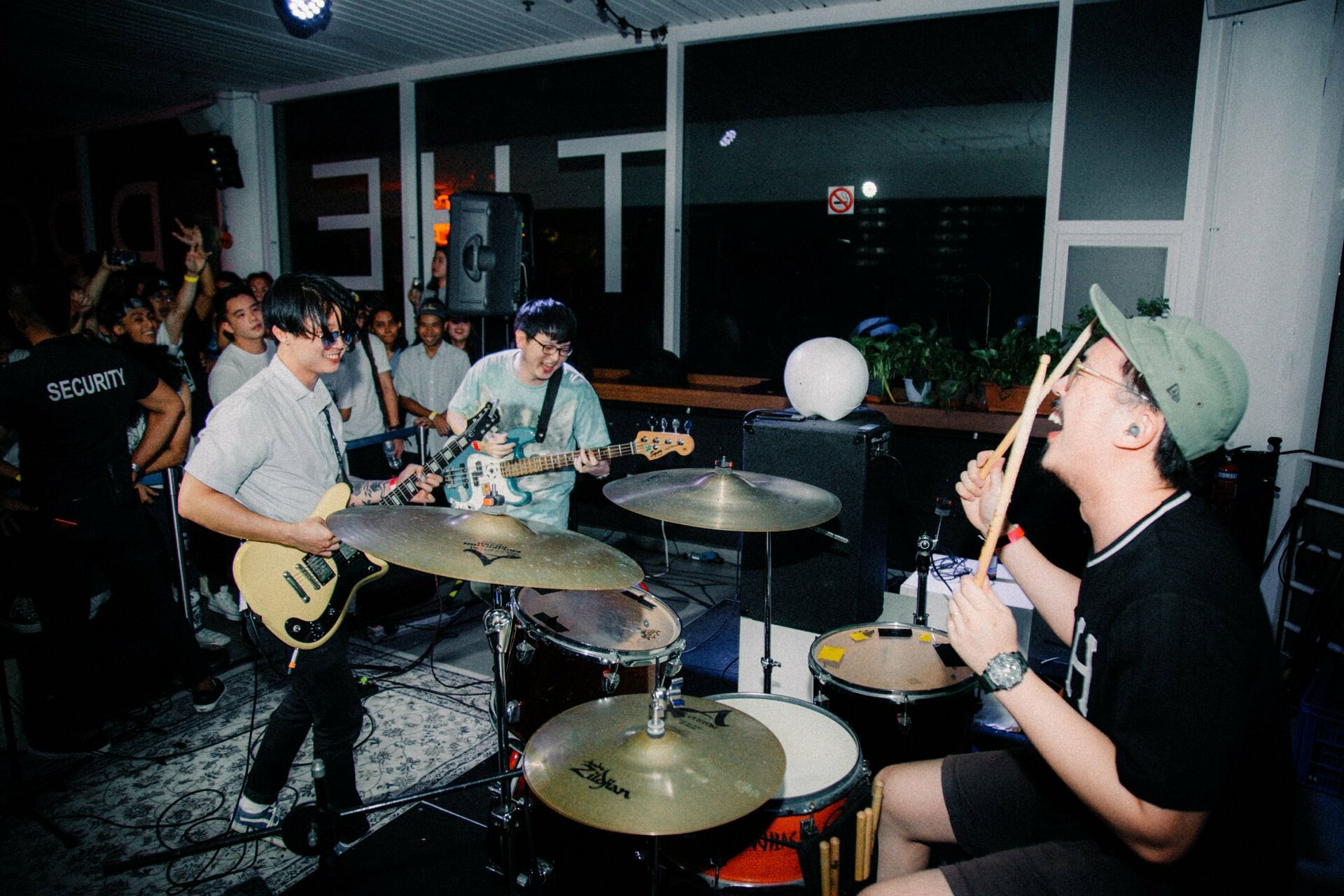 ---
Mustafa - Yung Raja + Ape Sia - Fariz Jabba (2018) 
The duo first met whilst auditioning for Ah Boys To Men 3 in 2012 - spending 5 months together filming. Citing their greatest influence as Too Phat, undisputedly the kings of hip-hop in South East Asia - Yung Raja and Fariz Jabba bonded over their love for the genre and partying at the old Refuge at Circular Road.
Through that, they cultivated a dynamic between the two of them that uplifts them both artistically and professionally. They introduced themselves onto Singapore's hip-hop scene with a string of bilingual freestyles, weaving Tamil and Malay into their bars; one such  early example was posted on their Twitter accounts prior.
last one for a while pic.twitter.com/eJvNRxsWbF

— ⲯ﹍︿﹍𝚓𝚊𝚋𝚛𝚒𝚗𝚘 ﹍ⲯ﹍︿﹍☼ (@farizjabba) January 6, 2018
In June of 2018, Yung Raja released his debut single 'Mustafa' imprinting himself as the "Brown Superstar" that he is on our island,
followed by Fariz Jabba's 'Ape Sia' which showcases Jabba's lyrical wordplay in August of the same year.
Now, 'Mustafa' has over 2 million views and streams on YouTube and Spotify. 'Ape Sia' is no lagger, with over 1 million views and streams. The pair were also featured in Too Phat's Joe Flizzow's 16 BARIS - a rap cypher series where artists showcase their freestyle talents in 16 bars. The video now garners over 2 million views, making it the 3rd most viewed episode on the channel. 
The two of them are now one of the most recongisable figures in the hip-hop scene in Singapore. Signed under Def Jam South East Asia, Yung Raja now has 6 titles to his name, with single 'Mami' featured on Jimmy Fallon's The Tonight Show. Following suit, Fariz Jabba has 6 titles to his name as well, and most recently featured on the Singaporean remix of regional hit by Malaysian rap collective ForceParkBois 'LOTUS'.
---