[UPDATE: 14 July]: On Thursday afternoon, Yung Raja took to Twitter to post a screenshot of a conversation between him and Jimmy Fallon, where Fallon expresses his love for the track.
🤯🤯🤯🤯🤯 pic.twitter.com/LSpEdojRVD

— YUNG RAJA (@YUNG_RAJA) July 14, 2021
A petition was also started by Jasmine Tan to get the hip-hop singer to make his debut performance on the show. In the petition description, Tan wrote: "Let's do some justice to his music, Jimmy needs to listen to the whole song to know how fire that beat is!!! He needs to know there's more to the song than just the word 'Mami"."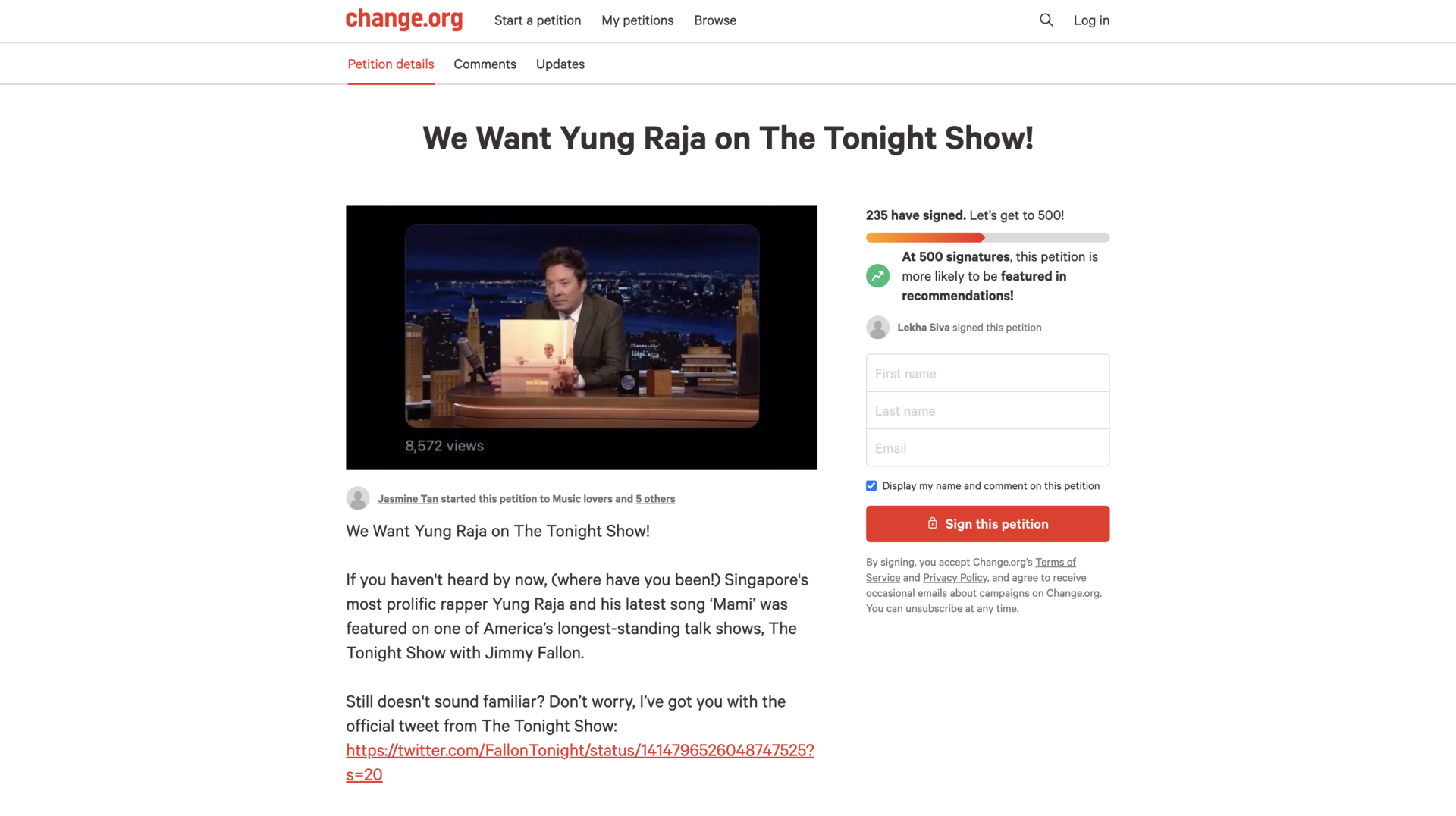 As of 14 July, the petition has garnered over 250 signatures from fans.
[13 July]: On Tuesday (13/07), Singaporean rapper Yung Raja made a surprise appearance in an episode of The Tonight Show with Jimmy Fallon.
Do 🙅‍♂️ Not 🙅‍♂️ Play 🙅‍♂️ "Mami" 🙅‍♂️ #FallonTonight pic.twitter.com/cvC1VElDdx

— The Tonight Show (@FallonTonight) July 13, 2021
In the clip posted by the official 'The Tonight Show' Twitter account, Fallon holds up the vinyl record for Yung Raja's single "Mami" on the popular recurring segment "Do Not Play" where he reviews tracks and albums tongue-in-cheek, before playing the song's repetitive post-chorus hook for the live audience. Esteemed frontman Questlove of the American hip-hop band The Roots was seen jamming to the song as the camera panned to him, the long-time house band of the Tonight Show showing our Raja some love.

Near the end, Fallon cuts the song abruptly and jokingly said: "Now that's how you write a song right there."
Yung Raja was alerted by a netizen who spotted it and took to Instagram immediately, reacting to his brief appearance on the show.
 

 

View this post on Instagram

 
Upon the release of the clip on his Instagram, various Singaporean musicians including THELIONCITYBOY, Benjamin Kheng, Joanna Dong, Gentle Bones, and many others took to Instagram to react to his cameo on the show: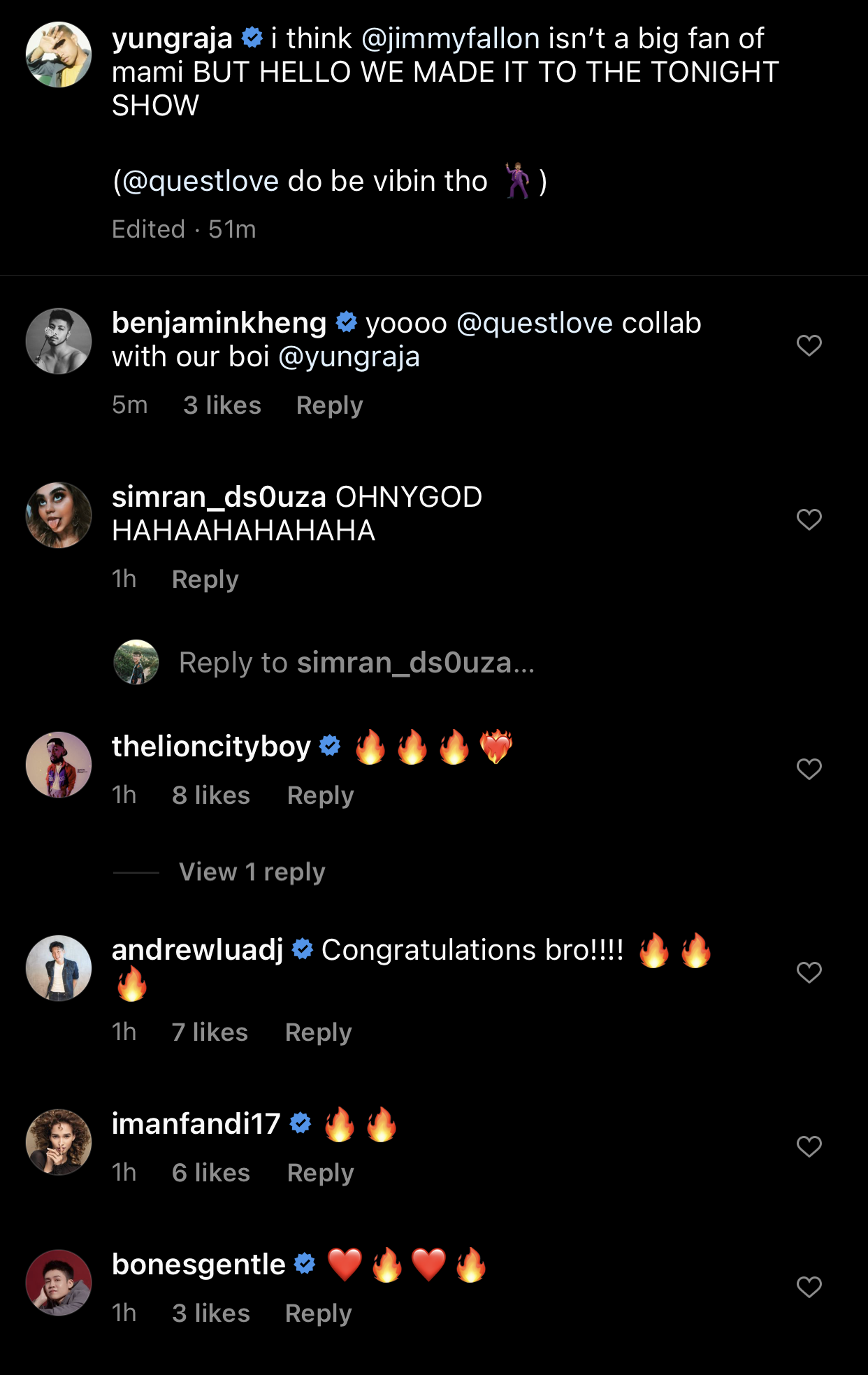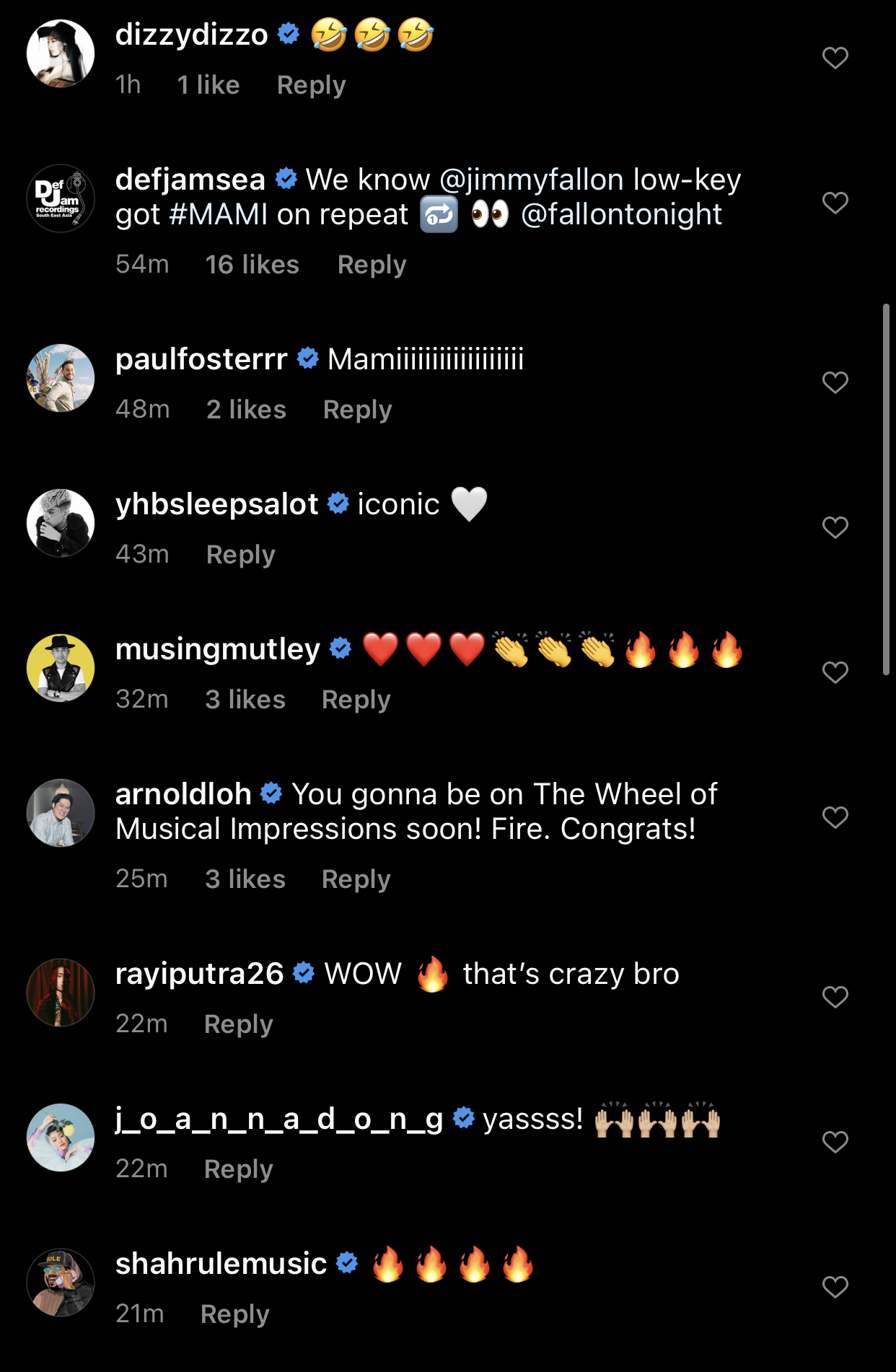 Joakim Gomez, a Singaporean radio DJ at MediaCorp 987 FM, has also reacted to Yung Raja's appearance on the talk show.
There's more to the song than just the parts he featured. But I don't expect our western friends to truly understand "Mami".

But they won't have problems understanding Gucci Gang Gucci Gang Gucci Gang Gucci Gang Gucci Gang Gucci Gang Gucci Gang Gucci Gang.

Well done @YUNG_RAJA https://t.co/wCPseJQkYw

— Joakim Gomez (@JoakimGomez) July 13, 2021
Fans also took to social media to express their shock and excitement:
YUNG RAJA MADE IT TO JIMMY FALLON WHAT THE HECK

— butter naan (@moonnlouvre) July 13, 2021
Aye don't diss Raja like that man that ain't cool BUT HOLY SHIT YUNG RAJA REALLY MADE IT TO JIMMY FALLON https://t.co/PglXrB32fv

— Chaï Papï (@itschaipapi) July 13, 2021
Yo, if only you played the whole song. The entire studio gon turn up. YUNG RAJA IS LIT. https://t.co/3hPHx3J4SB

— Dashvin Kumar (@DashvinX) July 13, 2021
Yung Raja released his single 'Mami' back in March this year. With it, he's the first Singaporean to make the NME Hot 100 list with the single. More recently, he was featured in Gov.sg's 'Let's Test, Trace and Vaccinate' jingle and also headlined the Sing Lang 2021 online concert in June.
---
Watch the music video for 'Mami' here:
---
---