Singaporean chillwave artist-producer Houg has announced the release of his debut album The Biting Tempo on the 4th of March, as well as an audiovisual show that is set to happen at The Projector's Blue Room on the 12th of March.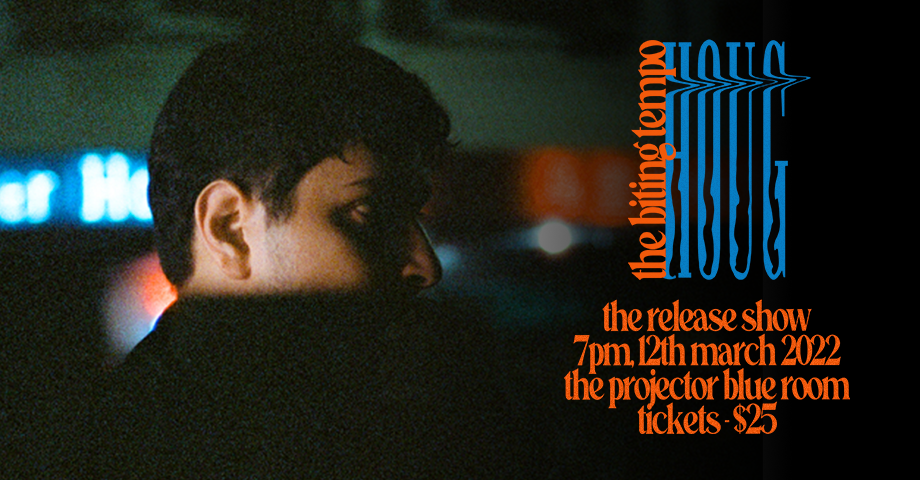 The album will see the complete fruition of the artist-producer's efforts from August 2021, when he dropped the album's first single 'Metro (4:35)', giving listeners a taste of what was to come from the introspective-driven musician.
The Biting Tempo, releasing via vaporwave label Business Casual will consist of 12 tracks, including previously released singles in 'Metro (4:35)', 'Excuse Me (What's The Time?)', 'Jarr', '7 Ain't Home', and 'Department of Loved', alongside the debut of 7 more tracks - 'Jimbo, Where's My 200 Bucks?', Proxy', 'Edwardes', 'DXO', 'There's Always A Time & Place For Cybernetic Enhancements', 'Nova', and 'Cleaning Time.'
Introducing Houg: A producer wielding time and ditching normalcy, in search for the sound of tomorrow
In a press release statement, Houg shed some light on the motifs employed and what he set out to achieve from it: "The album captures the five stages of grief, catalysed by time, from denial to anger, to bargaining and then depression, and finally, acceptance. Time affects us all and it sways our life experiences. I'm sure people have struggled with at least one of the struggles I share on the album. I want these stories to serve as an aural companion to those who struggle and hopefully, they'd find value in these songs, particularly with helping them through these issues. Thank you for joining me on this journey."
 

 

View this post on Instagram

 
Collaborating with artists from 6 countries formed most of the 12-track LP, Japanese city jazz band Fontana Folle and Thai soul-funk band Supergoods just several names in a regional round-up. "Covid has forced me to adapt my writing process, and to look into the virtual sphere for inspiration and collaboration. It's like I've gone across most of East-Asia on this album without even leaving my room," shared Houg.
"These creative folks have been amazing at adding more dimension to the stories I've written on this album, and I can't wait to see you on the 12th of March, where you'll be taken on a trip."
The said trip's screening will begin sales on the 17th of February at 8PM with early bird ticket sales, priced at $20 until the 21st. The general admission tickets are priced at $25, and they will be made available for purchase on Peatix.
---
In the meantime, listen to Houg's latest single, 'Department of Loved' here.
---